The feeding system in a screwdriver is one of the most important parts. What is the feeding system, what is the structure of the feeding system and what is the flow of the feeding system? Now let's have a thorough understanding of the important part of the
Screw Machine
.
The supply system of automatic screw driver mainly consists of hopper, vibrating disk, distributing system and air pipe. It can also be simply believed that the supply of the screw is through the vibrating disc feed, the hook disc type feeding, the drum type feeding, the screw supply and so on, and then through the guide rail neatly and orderly introduction of the material track, and finally into the trachea and the pressure of the screw to the lock, which is the basic of the screw supply system. Technological process.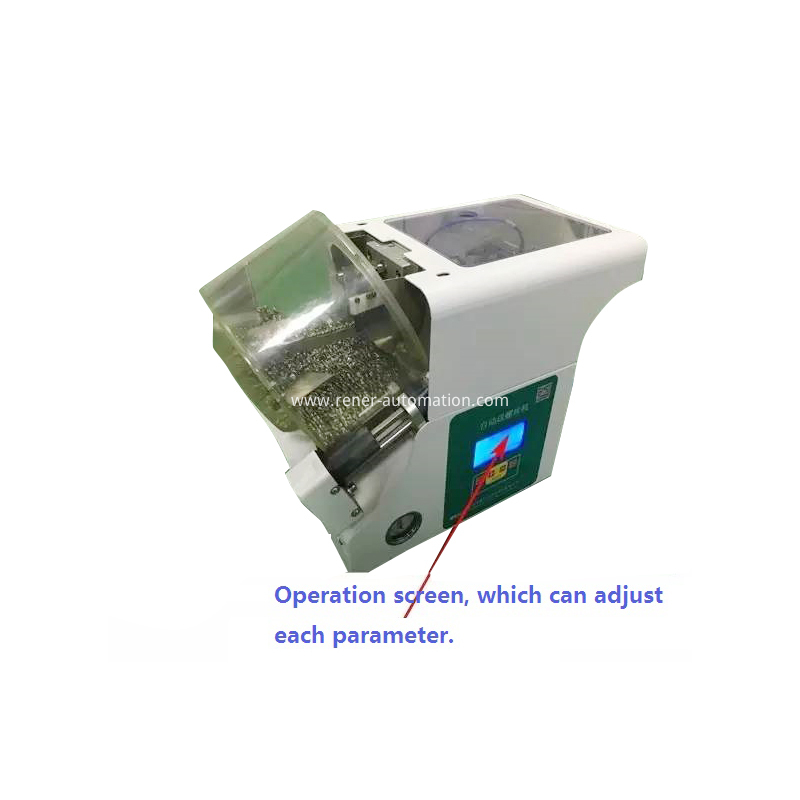 From the working principle process of the automatic screw driver, it can be divided into three parts, which are the supply system, the lock payment system, the feeding system (or the manual operation). The theme of this paper is how to supply the screws of the Automatic Screw Machine, that is, the supply system of the automatic screw machine, also called the feeding system.

The automatic screw driver divides the whole control system into three sub control systems, which are automatic feeding, locking system and transmission. The whole automation Assembly Line adopts a distributed control system with high reliability, good real-time and strong control function. It is convenient for centralized management and decentralized control, and can also control load, function and danger. It is relatively dispersed and distinct in levels.

In the modern control system, the small control system used in industry mainly consists of two major categories: single chip computer and programmable controller. In general, the automatic screw driver is mainly used in order control system.

Sequential control system is an automatic screw driver which can automatically and complete a series of operations in order to achieve control after the work instruction is issued. According to the order of order of control unit, sequence control unit can be divided into: (1) time sequence control unit; 2. Logical sequence control unit; 3. Order control unit.

The working process of feeding system for automatic screw driver is as follows.
1 when the automatic screw machine is locked and a screw is finished, the signal will be transmitted to the signal receiver by the induction system B and the induction system A.
The 2 signal receiver sends the instructions to the feed inductor. The feed inductor begins to carry the screw out of the hopper. Through the incoming detector (automatic screening bad screws) the qualified screw;
3 one is sent to the nail tube, and the screw is sent to the batches by the air pressure. Waiting for the lock to be paid, when the lock has finished a screw, the incoming sensor then passes the signal to the signal receiver, so it circulate all the time.
4 when the automatic screw machine can not resupply the screw in the hopper of the lock machine, the feed inductor receives the signal and sends out the sound and light alarm by the alarm. This is the function of the lack of alarm.
Contact us:
WeChat/Skype/WhatsApp:+86 13925537396
E-mail:rener688@163.com